Thank you to all the volunteers who came to Seaford HS this morning to help put up the American flags. We appreciate your assistance. A job well done!
VOLUNTEERS NEEDED: The SHS 9/11 Memorial Committee will be planting American Flags on the front lawn of Seaford HS this Saturday, September 2 at 9 AM. Take down of the flags is scheduled for Saturday, September 16 at 9 AM. Any help you can give is very appreciated. Many hands make the job lighter. Thank you.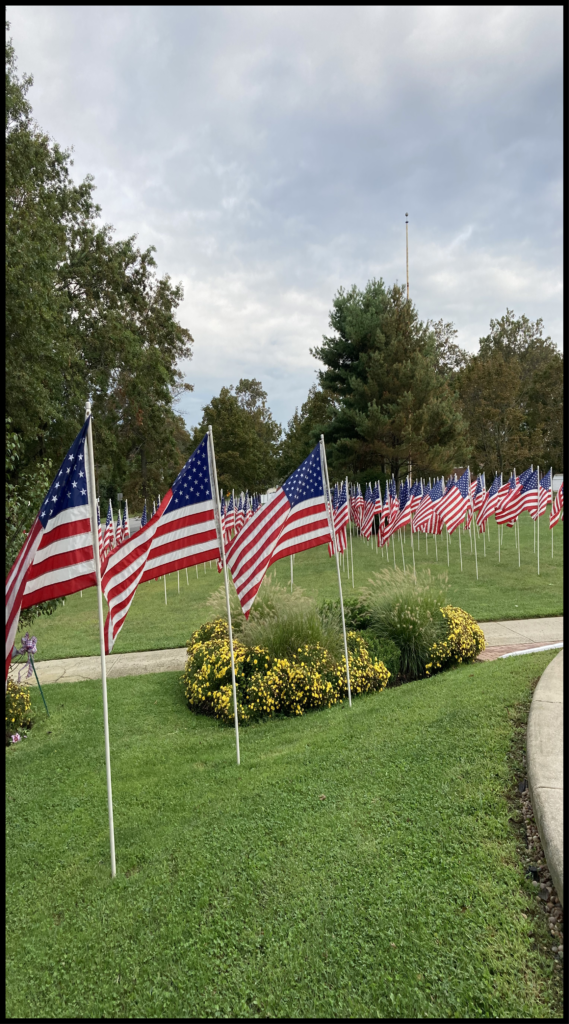 RIDE TO REMEMBER by Michele Myers
Thank you to everyone who met Michele Walsh Myers (class of '85) at Seaford HS today (7-30-23) as she culminated her 4-day 168 mile bicycle ride from Montauk through Suffolk and Nassau Counties, into the CITY while stopping along the way to visit firehouses, precincts and the WTC site. Our sincere appreciation goes to Michele for her fundraising Ride to Remember. i
This in-person find-raising event is a tribute to five Seaford High School alumni who lost their lives on September 11, 2001. They are FDNY Battalion Chief Thomas Haskell, FDNY Timothy Haskell, NYPD John Perry, Rob Sliwak (Cantor-Fitzgerald) and Michael Wittenstein (Cantor-Fitzgerald).
All proceeds support the Patriot Award, a monetary scholarship given to five deserving graduating seniors of Seaford High School in honor of the memory of the fallen alumni.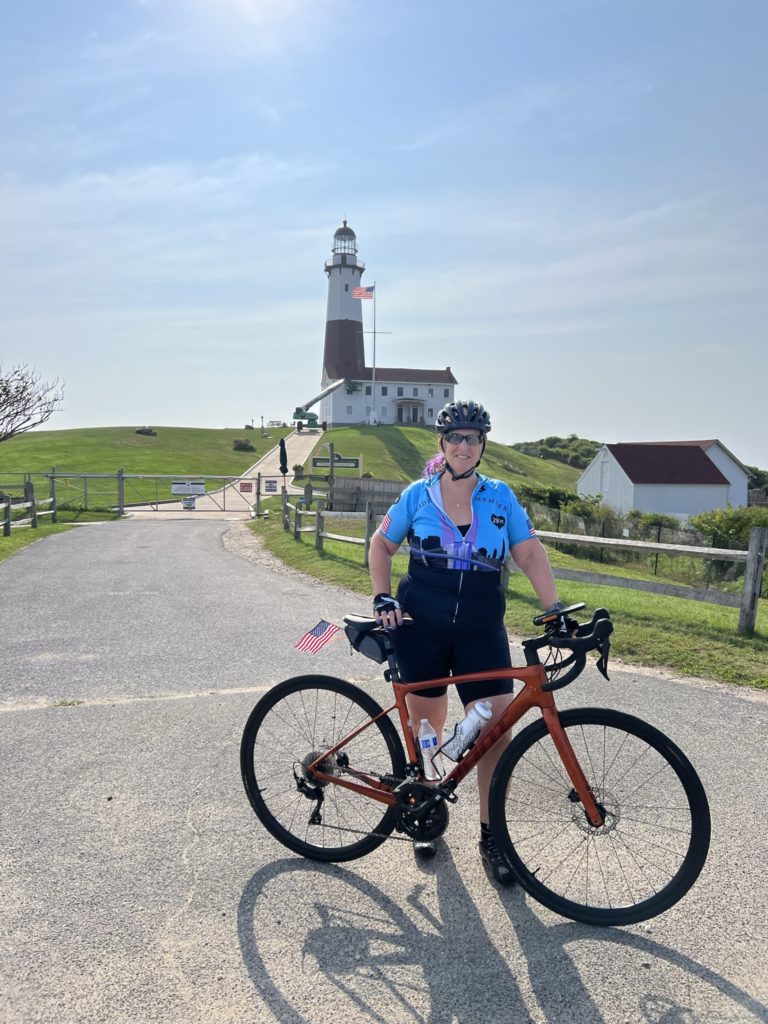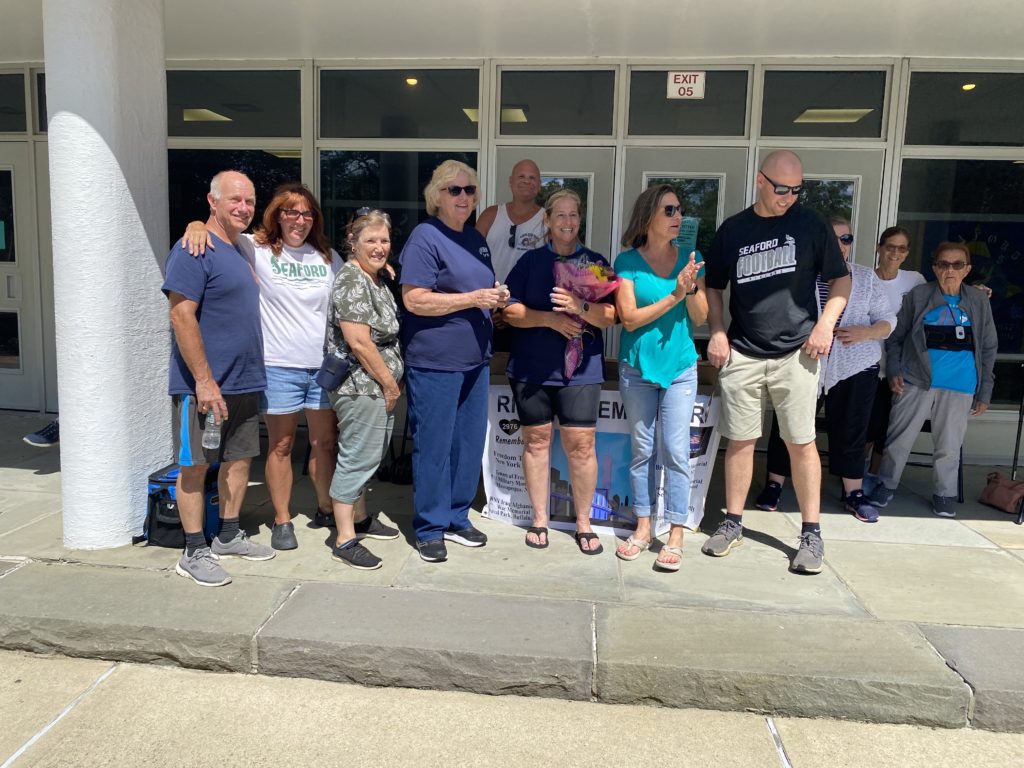 Michele's Ride to Remember 9/11 Bike Tour
July 27 – July 30, 2023
Start location: Montauk Lighthouse 8:00am
End location: Seaford High School 9/11 Memorial, Seaford High School, Seaford, NY 3:00pm
FUNDRAISER BY MICHELE WALSH MYERS FOR THE 9/11 SHS Memorial Organization
Michele Myers Ride2remember911@gmail.com 585.354.7708 ridetoremember.jimdo.com
Please meet Michele at Seaford High School on Sunday, July 30th at 3 PM for the culmination of her 2023 RIDE TO REMEMBER.
This bike tour is to reflect on the tragedies of September 11, 2001, and remember all those who died. The event pays homage to the heroes of 9/11; 23 NYPD, 343 FDNY and 37 PAPD and our military personnel killed in the war on terrorism since.
The journey makes stops at various 9/11 memorials including "Garden of Remembrance" in Hauppauge which pays homage to the 187 Suffolk County residence and the "Patriot Garden Memorial" located in Eisenhower Park, a tribute to the 344 Nassau County residence, all who lost their lives in the attacks. On the first three days additional stops will be made to many fire departments between Montauk and the Bronx. The fourth and final day will start at FDNY Squad 18 and concludes at the Seaford 9/11 Memorial, Seaford High School, Seaford, N.Y. (my hometown and alma mater). There we will honor the five alumni we lost that day, two of which were classmates of mine. They are Tommy Haskell, Timmy Haskell, John Perry, Rob Sliwak and Michael Wittenstein.
Proceeds of the Ride to Remember Bike Tour will go to the Seaford High School 9/11 Patriot Memorial Fund, a not-for-profit corporation established to honor the memory of five Seaford HS graduates killed at the World Trade Center. The Seaford High School 9/11 Memorial committee determined that the best way to honor the memory of those lost was to construct and maintain a permanent memorial on the grounds of Seaford HS and award 5 scholarships to graduating seniors each year who exemplify the spirit and lives of the five alumni tragically lost at the World Trade Center attacks.
The Seaford High School 9/11 Memorial fund is 501 (C) (3) charitable organizations. For additional information about this memorial: https://seaford911.org/
ANNUAL CANDLE LIGHTING CEREMONY
Please join the community to honor the memory of Timmy, Tommy, John, Rob, Michael and all those who tragically perished on September 11, 2001.
The annual candle lighting will be on Monday, September 11th at 6:45 P.M. (arrive early please)
Rain or Shine – Keily Drive entrance open; parking in HS parking lot available.
Service Commitment Pledges will be acknowledged.
Refreshments will be served after the candle lighting ceremony.
RSVP & Questions – Contact Lynda at LSchachner@seaford911.org
PATRIOT AWARD DINNER 2023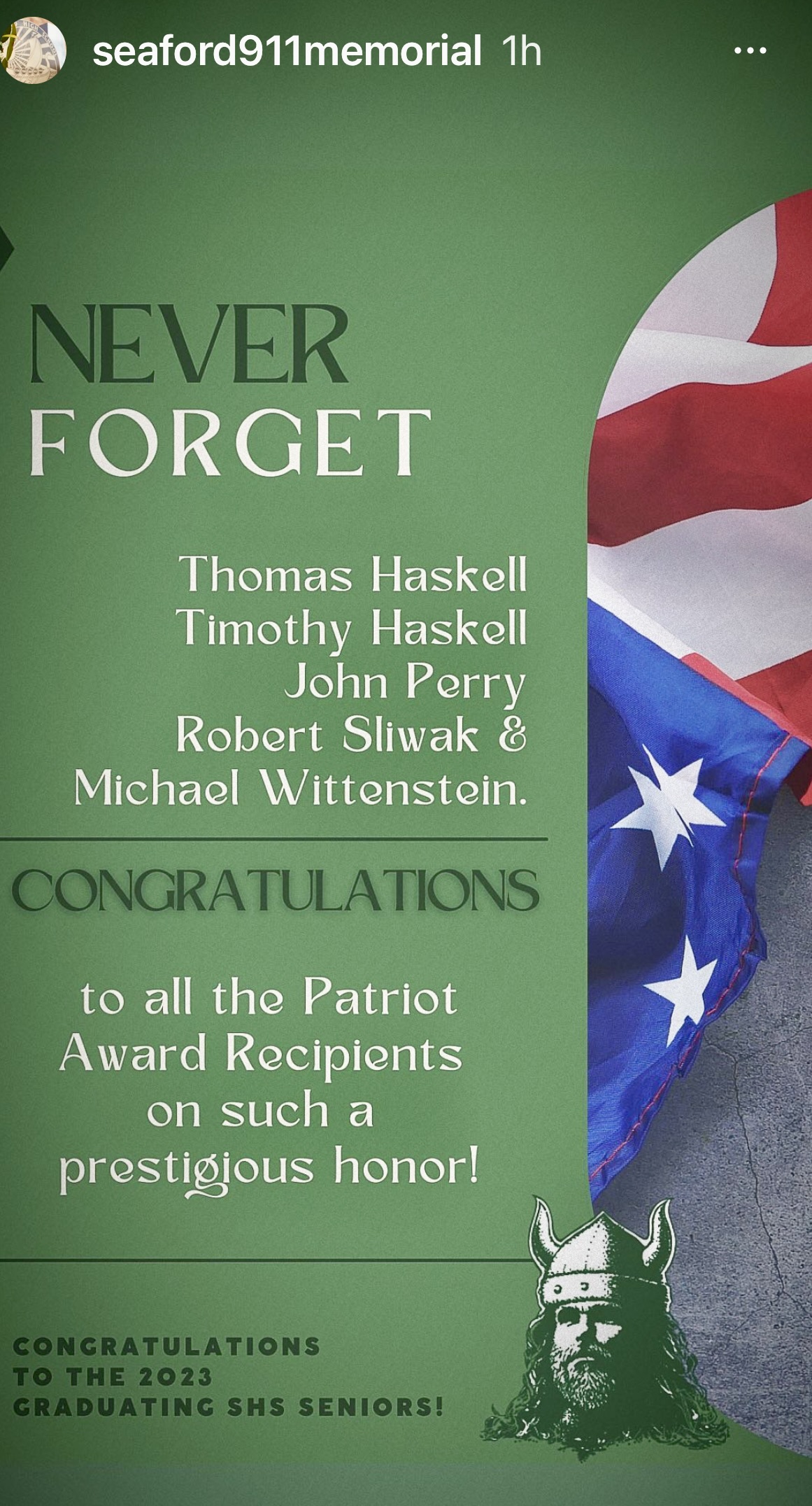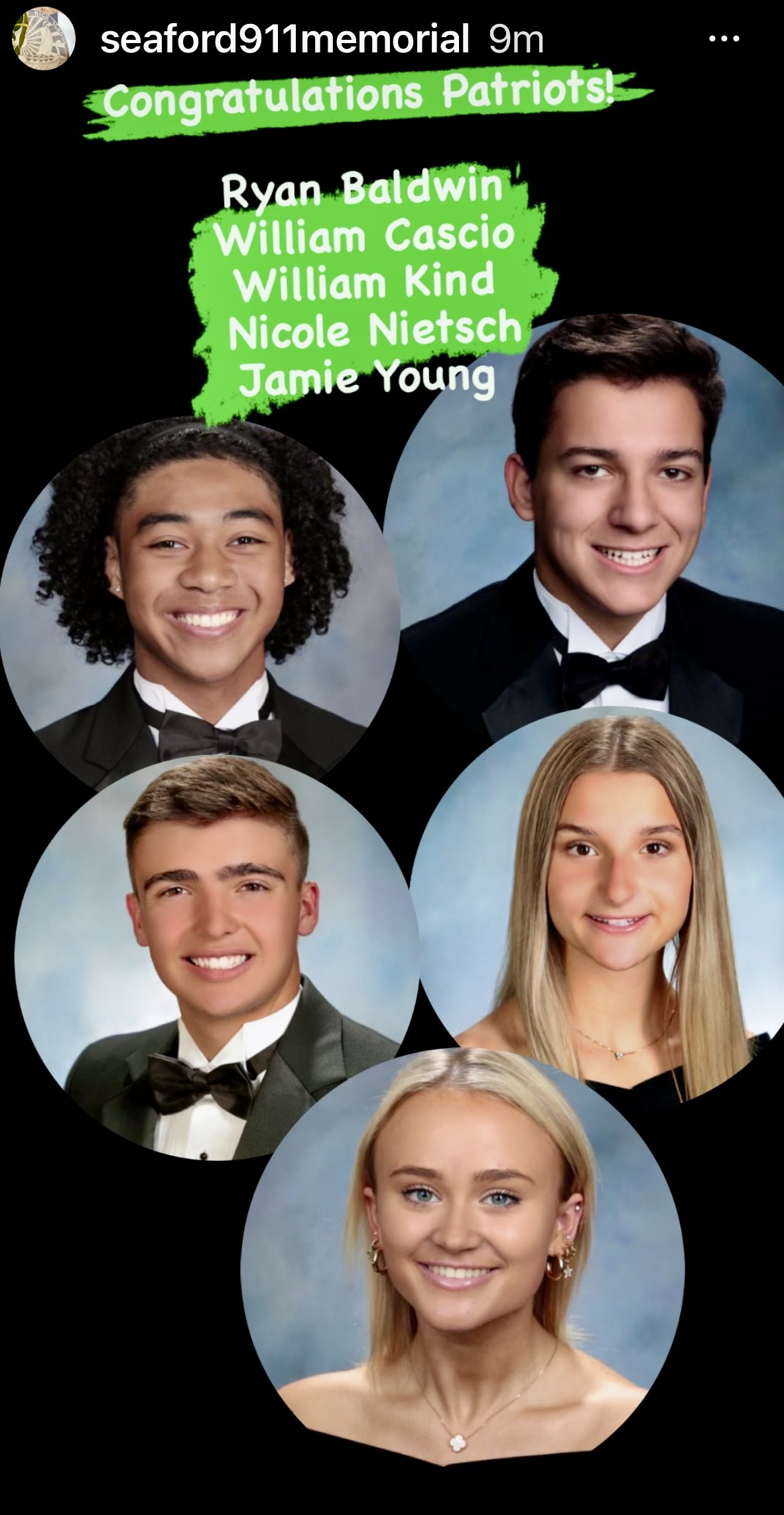 The Seaford HS 9/11 Memorial Committee is proud to announce this year's annual Patriot Award dinner will be held on MONDAY, June 26, 2023 at 6PM at the Crest Hollow Country Club. This year the committee will be honoring Nick Bilotta, Joseph M. Mottola (SHS '81) and Elaine S. Tamsen along with five graduating Seaford High School students who exemplify service, character, and commitment. These students are Ryan Baldwin, William Cascio, William Kind, Nicole Nietsch, and Jamie Young. For tickets, please contact Lucille Sliwak Ficara at luficara@optonline.net.
Join our instagram page daily at seaford911memorial.
Tickets are $100 each. Proceeds go towards the Patriot Award Scholarship Fund, ongoing 9/11 Memorial maintenance and the annual Candle Lighting Ceremony held each year on September 11th.
For ticket information or to place an advertisement (business or congratulatory) in this year's Annual Patriot Award Dinner commemorative journal, please contact Lynda at LSchachner@seaford911.org.
Donations and Payments:

Please send checks/credit card information to:
9/11 SHS Memorial Fund, PO Box 2425, Seaford NY 11783.
VENMO for donations and payments: We now accept VENMO as payment for the dinner, journal ads and donations. Please do NOT press the DONATION button.
VENMO accepted at:
SHS Memorial Fund @ SHS_911_MemorialFund

; and please follow up with an email with questions or regarding payment for dinner tickets and/or journal ad payment to Lynda at LSchachner@seaford911.org.
2022 PATRIOT AWARD DINNER
Om June 28, 2022, three 2022 Honorary Patriots were honored. The committee honored Scott A. Bersin, Sean A. Rhatigan (SHS class of '91) and John A. Striffolino. Five graduating seniors received the Patriot Award for their service, character and commitment. They were Alexandra Leggio, Annarose Romanelli, Brooke Surace, Parker Surace, Bryant Wong and Ryan Haskell.
Important Meetings & Information
Committee meetings are at 6:30 PM on ZOOM (since March 2020), email invitations will be sent by Lynda during the week prior to each meeting.
2022-2023 Meetings : Oct. 13, Nov. 9, Dec. 7, Jan. 5, Feb. 2, March 1, Apr. 4, May 11, June 7, June 22, July 20, Aug. 17, Sept. 7Patriot Award Dinner: Monday, June 26, 2023 at 6 PM at the Crest Hollow Country Club

Installation of new bricks: will be done before Sept. 11th, contact Brichko@optonline.net for further information
Candle Lighting Ceremony: Monday, Sept. 11th at 6:45 PM
Documents:
9/11 Candle Lighting Ceremony
The annual candle lighting ceremony is always held on September 11th in front of the memorial at Seaford High School and is attended by over 1,500 people. Please join us.